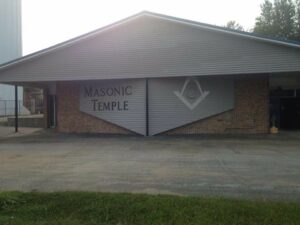 The Masonic brotherhood came to Harvey, Illinois in 1892.  This arrival was destined for a long stay (1980).  Through the years more than 2,300 men became associated with Harvey Lodge #832 later becoming known as Oak Forest Lodge #832.  The genesis of Harvey Lodge is attributed to the dedication and foresight of seventeen Master Masons who, in 1892, petitioned the Most Worshipful Masonic Grand Lodge of Illinois for dispensation to establish a Masonic lodge in Harvey, Illinois.  The petitioners were James A. Lawson, James A. Bates, George R. Kenyon, Irwin A. Miller, William Green, Charles E. Howard, Joseph M. Ellis, S.L. Skinner, E.B. Albright, J.L. Cass, D.W. Turney, M.L. Clark, E.B. Clark, Thomas A. Noble, George S. Woodward, E.G. Osgood, and Jonathan Mathews.  On September 13, 1892, this petition for dispensation was approved by the Grand Lodge under the leadership of Most Worshipful Grand Master Monroe C. Crawford.  The Lodge was initially given the name "Magic City Lodge" with no number designation.  Grand Master Crawford appointed the first officers who were James A. Lawson, Worshipful Master; James A. Bates, Senior Warden; George R. Kenyon, Junior Warden; E.B. Albright, Secretary; M.L. Clark, Treasurer; E.B. Clark, Senior Deacon; D.W. Turney, Junior Deacon; and S.L. Skinner, Tyler.  This was the beginning of a lodge that started with seventeen members and by the year 2011 had a registered total of over 2,314 brethren during its existence.
"Magic City Lodge" was chosen for its name because of the influence of the forthcoming 1893 Columbian Exposition that was being organized in Chicago.  The exhibition area was originally known as "Magic City"; however, later it became known as "White City" because of all the buildings and other structures were painted white.  Furthermore, the exposition area was one of the first outdoor uses of electric lights and this made it very impressive, especially at night with the combination of white lights and white structures.  This radiance of confidence and hope in the future was reflected in the creation of a new Masonic lodge in neighboring Harvey.
Another reason for the lodge's name was that Harvey's original name was Magic City.  Its name was later changed to Harvey in honor of its founder, Turlington W. Harvey.
The first stated meeting of Magic City Lodge was held on September 18, 1892, only six days after the Lodge had been organized under dispensation from the Grand Lodge.  It was decided that the stated meetings would take place on the first and third Mondays of each month in French Hall at the corner of 154th and Broadway in Harvey.  Dues were set at $5.00 and petition fees were set at $30.0, payable $10.00 for each of the three degrees.  During the first meeting, seven petitions were received from the following: H.A. Starkey, P.B. Lamb, T.D. Hobson, E.L Stratford, C.T. McKee, W.J. Baker, and J.W. Lawson.
Brother Bates was well-known in Harvey.  He served on the City Council and as the Chief of Police.  Although active in Magic City Lodge for many years, including serving as its first senior warden, Brother Bates never became the Worshipful Master.
Among the brothers who were raised in the first year was Walter Scott.  His achievement was remarkable because he received the first three degrees of Freemasonry on three successive Monday nights; namely, on May 1st, 8th, and 15th in 1893.  In 1895, he became the first elected Worshipful Master of Magic City Lodge No. 832.  (Note:  James Lawson was the transitional Worshipful Master when the Lodge transitioned from operating under dispensation to that of being a chartered lodge.)
There was much work to be done in the first year.  On November 7th, 1892, Magic City Lodge made its first payment of $50.00 for its Masonic paraphernalia.  As stated earlier, they met in French Hall.  Rent for the first three months was $26.50.  Approximately six months later the lodge moved to the Moose Building.  By the end of 2893, the Lodge had received 27 petitions for degrees and the treasury had $71.68.
During 1893 it was decided that the Tyler should be compensated at the rate of $.50 per meeting and that $25.00 should be allocated to hire a Grand Lecturer to teach the Standard Work.  A charity fund was created and it was to be 20% of the Lodge's money on hand.  Twenty dollars was set aside to start this fund.
The foregoing is a brief recapitulation of the "period of dispensation".  It was the commencement of the history of Freemasonry in Harvey and later in Chicago Heights, and then Oak Forest.  The Masonic fraternity was nourished by dedication to its tenets by a group of men who were committed to enriching the moral fabric of their personal lives and that of the larger community through brotherly love, relief, and truth.
Becoming a Chartered Lodge
The brethren of Magic City Lodge were eager to become a chartered Masonic Lodge.  Pursuant to their goal, one year later on September 10, 1893 they presented a petition to the Most Worshipful Grand Lodge of Illinois for a charter that would recognize them as being a chartered Lodge.  This petition was filed under the leadership of James A. Lawson, W.M.; E.B. Clark, S.W.; and George S. Woodward, J.W.  To attain this new level of recognition, the brethren had to demonstrate that the Lodge had a suitable meeting place, owned the necessary Masonic ritual paraphernalia, and that it was capable of operating in compliance with the Standard Work as prescribed by the Masonic Grand Lodge of Illinois.
This matter was brought before the annual Communication session of the Grand Lodge on October 3, 1894, and ,it was approved.  It was at this time that the numerical designation "832" was assigned to the Lodge.  The newly chartered Lodge was officially designated "Magic City Lodge No. 832".  Note:  This remained the Lodge's name until October 3, 1907 when it was changed to Harvey Lodge No. 832.  On October 5th, 1990 the name was changed to Oak Forest Lodge.
On October 27, 1894, the Most Worshipful Grand Master Leroy A. Goddard installed the initial officers under charter who were James A. Lawson, W.M.; Walter Scott, S.W.; George S. Woodward, J.W.; Frank Renwick, Sr. Deacon; Daniel Turney, Jr. Deacon; John A. Stout, Secretary; McRome Morse, Treasurer, Ed Ruthrauff and William Hunter Stewards; William Green,m Chaplain; and S.L. Skinner, Tyler.  Freemasonry was now firmly established in Harvey, Illinois.
Written By Melvyn N Freed with Collaborator George E. Coppess.